Growing Ageing Population - 60+ Years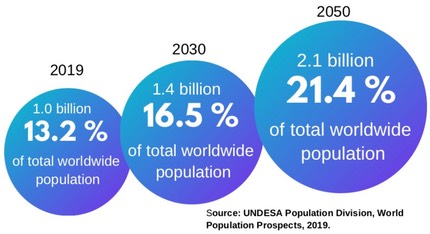 Notifications of events organized throughout the year by the NGO Committee on Ageing will be sent out by email. Watch this space for updates on upcoming events. 
Full list of upcoming and recent events of interest to our members may be found here.
The High Level Political Forum completed its 2021 review of implementation of the sustainable development goals on Thursday, 15 July, with the adoption of a Ministerial Declaration after intense negotiations.  Final Draft that was adopted is here.  The Major Groups and Other Stakeholders, of which the Stakeholder Group on Ageing is a member, issued a statement expressing disappointment - here.

The Second Newsletter, Issue #2 of the NGO Committee on Ageing, is now available

 here (PDF 8.5 MB).

The Inaugural Newsletter Issue of the NGO Committee on Ageing, disseminated on 10 March 2021, can be accessed

here (

PDF 1.6 MB

).
A full listing of current and past newsletters may be found here.
Learn how to use your Twitter Account !!   Powerpoint presentation here.